Your Life/Manage
Mobile Services
Your typical day is a marathon
Your life is running at full speed most of the time, so you need an easy way to manage your money whenever it's convenient. TLC's mobile options give you the power to do everything from your phone or tablet.

Download our app for your Android or iPhone.

Use your phone's mobile wallet to pay for purchases.

Deposit checks anywhere via your app enabled device

Real-time control over your TLC credit and debit cards.
Zelle® Person-to-person payments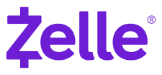 Zelle® is a fast way to send and receive money with the people you know and trust.