Your Life/Manage/FAQ
Bill Pay FAQ
Pay a Bill
Set up an eBill
Set Up Payment Reminders
Set Up Bill Pay Alerts
Pay by Card
Online Bill Pay is a service that allows you to pay virtually anyone or any company through your online banking account. You determine who you want to pay, when you want to make the payment and which account you want the payment to come from. It's safe, secure and easy to use. You can pay virtually any business or individual with a mailing address within the United States and Puerto Rico. For example, you can pay utilities, cable bills or credit cards, or individuals such as a landlord, babysitter or relative.
2. How do I access Bill Pay?
Log on to Online Banking from TLC's home page at
www.tlccu.org
. Once you've logged on, click on the "Payments".
3. Do I need to enroll in Bill Pay?
Simply Log in to Online Banking and click on "Payments". On your first visit you will be asked to enroll. An enrollment screen will be displayed with a link to the Bill Pay Terms and Conditions. Once you agree to the Terms and Conditions, you can begin adding payees and making payments immediately.
4. I've logged into Bill Pay. What do I do now?
The first thing you must do is add payees before you can schedule payments. To add payees, click on "Payments" or "Pay a Bill." Click the "+ New Payee" button. 
When setting up your payees, use information from your most recent bill to avoid processing delays.
5. How do I schedule payments?
Once you have set up payees, locate your payee on the Payments page.  Enter the account you wish to pay from, the dollar amount, and the date you wish to have it paid.  You many also chose to make it a recurring payment or add a comment.  Click "Pay", and follow the prompts.  Your bill is scheduled when you reach the "Payment Scheduled" screen.

Bill payments are processed daily, Monday - Friday, at approximately 2:00 PM.
6. How do I edit a payee?
To edit a Payee, locate the Payee you wish to update on the payments page.
Click on the payee you wish to update and the "Edit Payee" button.  Make the changes and submit.
7. When is my account debited?
Your account is debited at approximately 2:00 p.m. on the estimated delivery/payment date. 
8. How is my bill payment processed?
Payments may process electronically or by check. Electronic payments will either process through ACH or by virtual card. The goal is to deliver your payment securely, using the fastest method available for your payee. All other payments are made by paper checks that are mailed via the U.S. Postal Service.
Funds will be withdrawn from your account the same day your payee receives them.  For payments by check, funds will be withdrawn from your account when the check is cashed, just like a check that you would write out yourself.
9. How long does it take for Bill Pay payments to be processed?
Generally, your payment is received within 2-3 days for electronic payments and 5 to 7 business days for paper checks.
10. How can I see which payments are pending and which have been paid?
Pending Payments can be seen by clicking on "Payments", "Manage Payments."
11. How do I know whether a payment is processed electronically or by check?
Locate your payee on the Payments screen.  Under the payees name it will state either "electronic" or "check".
12. Can I add a comment on payments?
Yes, you can add a comment on a bill pay sent electronically or by check.  You do this when you set up the payment to be made.
13. Can I RUSH a payment?
Yes. You can select "Rush Delivery" under the "Actions" column.
There are two options for rush delivery.  You can send an overnight or second-day payment via electronic or check for a nominal fee.  The rush delivery option is part of the set up screen when scheduling a bill payment.
14. Should I use Bill Pay for my TLC loans?
The easiest and fastest way to pay a TLC loan is to use the transfer button to move funds from a TLC deposit account to a loan account.  
15. What do I need to know about eBills?
Q. What is eBill?
eBill is a feature that allows you to receive and pay electronic versions of paper bills directly from your Online Bill Pay account
Q. How do eBills work?
eBills are delivered directly to your Online Bill Pay account. Once you set up an individual eBill for a company you do business with, an eBill comes directly from that payee to your account. Examples of businesses that offer eBills are cable service providers, phone service providers, utility providers and credit card companies
Q. Will I still receive paper statements when I have eBill?
You may continue to receive paper statements for the next 2 or 3 billing cycles. Contact your payee for more details on their paper statement policy
Q: How will I know if eBill is available for a payee?
If a payee offers eBill, there will be a "Setup eBill" link next to their listing on your Online Bill Pay dashboard.

If you are receiving eBill summaries from your payee and full bill statements become available, you will see a button that reads "Setup eBill
Q: What are the primary benefits of eBill?

With eBill, everything you need is in one convenient location. Using eBill allows you to streamline your bill pay routine and have online access to your bills. That means you won't have to keep track of paper bills. In addition, you can view past bill statements at a glance
Q: What information is included in an eBill?

If available for your payee, your full bill statement will be delivered to your account. That means you can view all statement information, including transactions, payment history, credits, and more.

If full eBill details are not available for your payee, you will receive a summary eBill statement that includes balance due, due date and minimum payment amount
Q: How do I pay an eBill?

To pay an eBill, simply choose the account you want to pay from, enter the amount you want to pay and schedule when you want the payment delivered
Q: How do I know when I have received an eBill?

You can sign up to receive an electronic notice to alert you when an eBill has been delivered to your account. You can receive these notices in the form of emails or text alerts to provide an extra reminder when a payment is due.
16. How do I change the default share for my Bill Pay transactions?
You can change the default share for Bill Pay transaction by logging into Online Banking (not available in Mobile Banking). 
Select "Payments" from the menu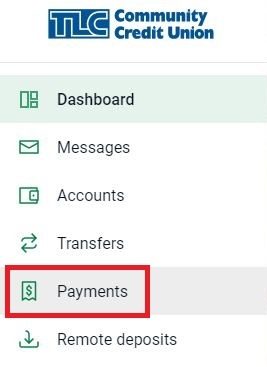 Select "Manage Payments" 
Click on "My Account" and then click on "View Accounts"
Select "Edit" on the share that you would like to make the default share.
Select "Set as default pay from account." Click on "Submit" to save your changes.
After you click submit you will get an "Account Edited" with a green check mark to confirm your changes.
17. Do I have the ability to add a debit or credit card as a payment source.
Yes, you have the option of adding a TLC or other financial institutions debit or credit card to be used to pay bills.
You will do this by clicking on "Payments"
Click on "Manage Payments"
Then you will click on "My Account"

From here you will be able to "Add Card"
18. How do I see history prior to conversion on 2/17/2021?
1.  Click on payments
2.  Click on Manage Payments
3.  Click on View More under History
4.  Click on "For payment history prior to 2/17/2021"
19. How do I delete payees and/or payments?
EDIT PAYMENT
From the main dashboard, click on "Payments" in the menu, then "Manage Payments."  Find the payment in the "Pending" menu and click edit. 
Edit the fields you wish to update or select "I would like to stop this payment" from this screen and submit.  As long as your payment is pending, you will not be charged for a stop payment.  (You can pay for a stop payment if it is not listed as pending.  Check the "Miscellaneous FAQ" page for more details.)
EDIT PAYEE
From the dashboard, click on "Payments" in the menu, then "Manage Payments."  Select the payee you wish to edit and click on the title.  In this example you would click on "Consumers Energy."
Click on "Edit Payee."
Update the information and "Submit."
20. How do I print payment details/history?
You can print payment history in Online Banking. First you will need to go to the "Payments" screen.
Select "Manage Payments"
On the right side of the screen you will see a "History" section. Click on "View" next to the payment you would like see payment details/history for.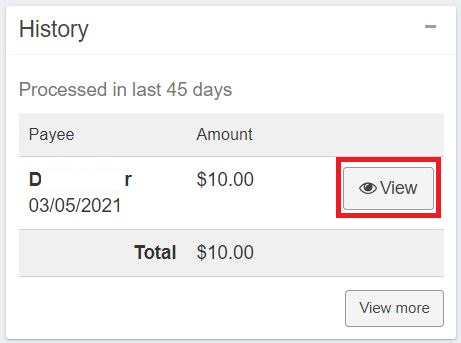 On this screen, you will be able to view the payment details along with the timeline of where the payment is in the delivery process. You can print this screen by using the "Print" button in the top right corner.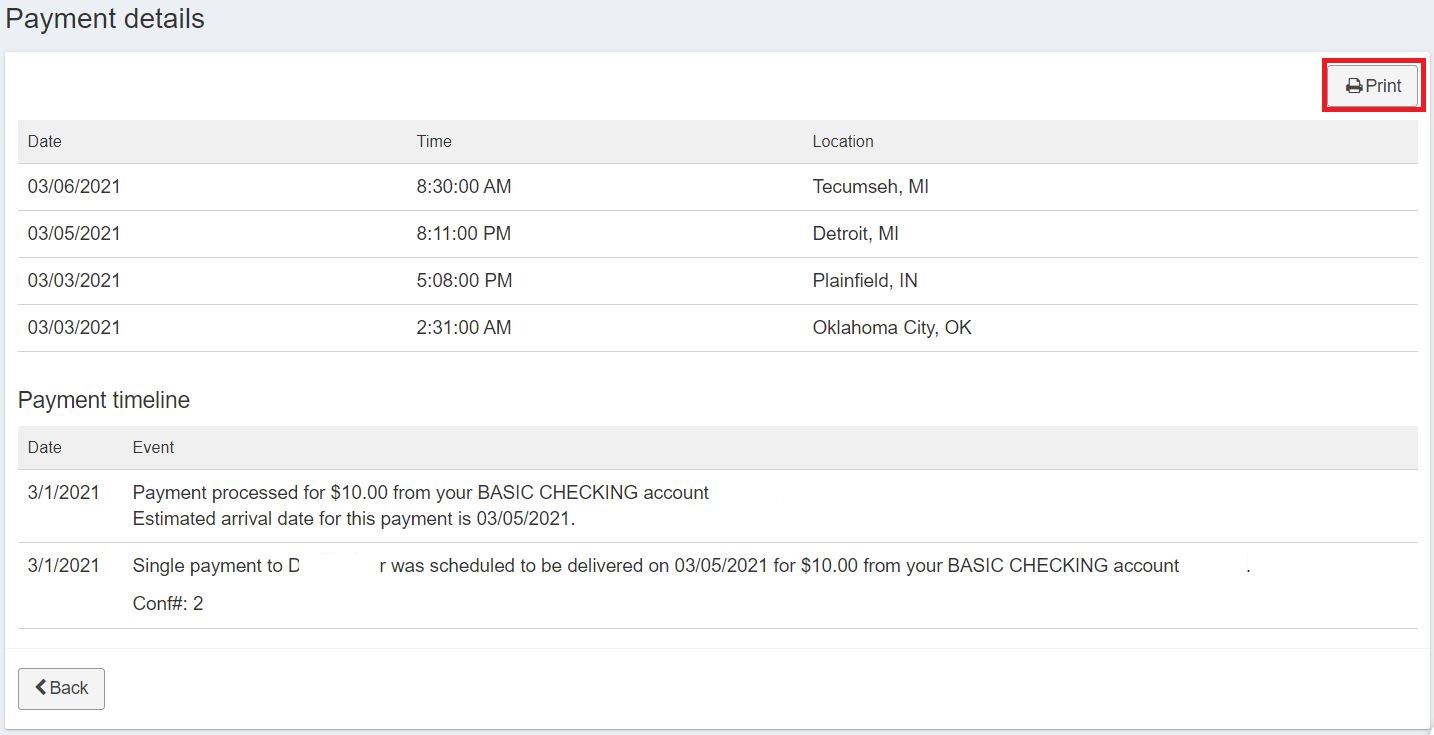 Don't see your question?
We'd love to hear from you!
Please do not enter your account number or social security number.  If you need to send account information we urge you to use the secure form inside online banking or contact us at a branch location. (517) 263-9120.